NAKED SAUNA -ART OF MEDITATION-
NAKED SAUNA -ART OF MEDITATION-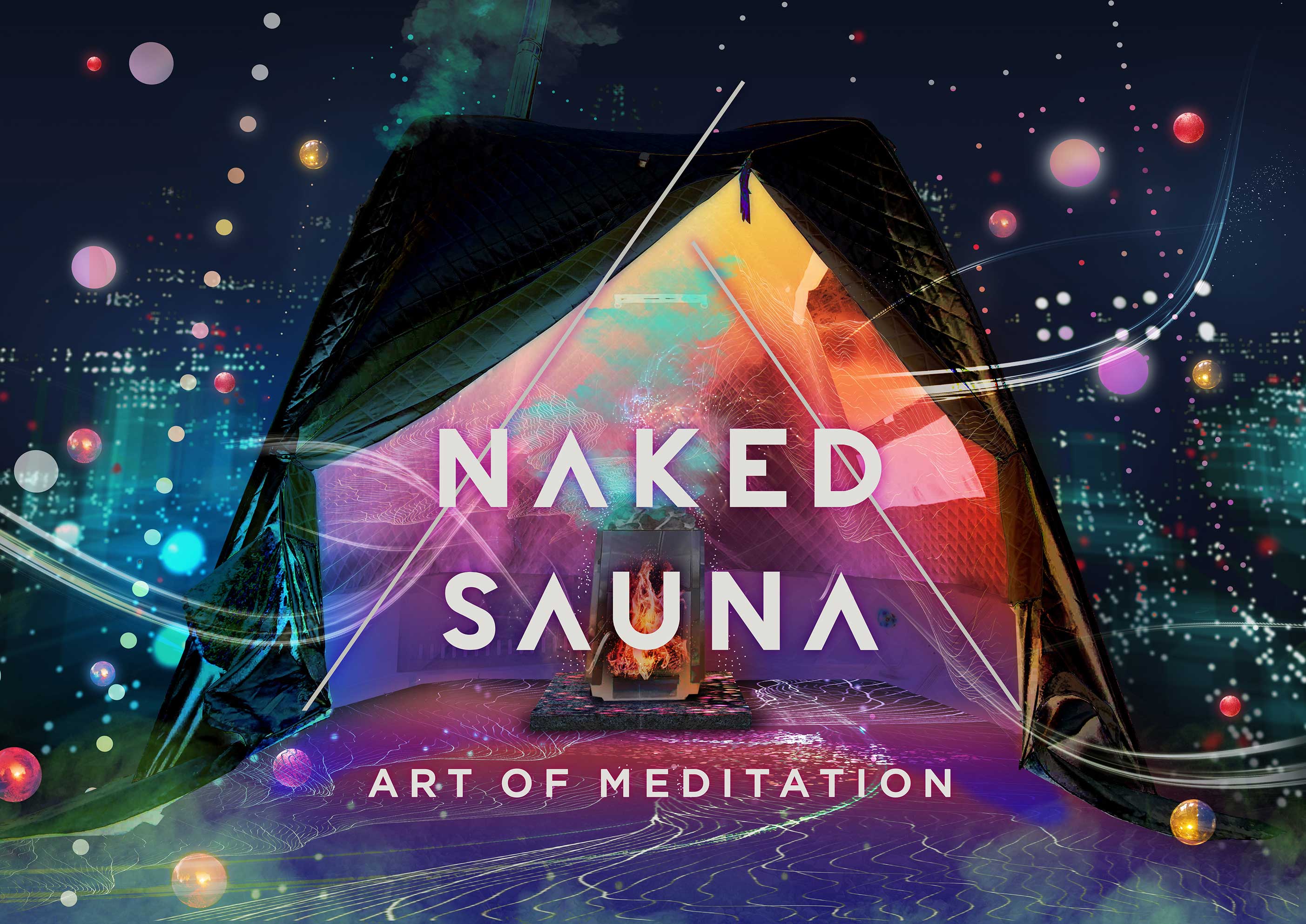 Because it is held in the city, you can experience a sauna that is an art of "meditation" that releases the stress of everyday life.
NAKED SAUNA & SPA" project, which started in November 2020, is a "Totono" sauna project with all five senses. The first will be held in Japan's number one starry sky village, Achi Village, Nagano Prefecture, and the second will be held in Ariake, Tokyo. In the first Achi village, under the starry sky in Japan, enter a stream as a water bath, creating a superb chill-out experience unique to nature, such as bonfire and bushcraft, centering on 4 types of "Toto" tent saunas. It was. It was enjoyed by a wide range of people, including families, male groups, and couples.
This time, a tent sauna event with an artistic meditation space based on the concept of "ART OF MEDITATION". Under the supervision of Metos Co., Ltd., Finnish tent saunas of different sizes are available. Inside the tent, a vital sensor that measures the heart rate of a person reads the heart rate and respiration of the person in the tent, and the "toto" sensation is expressed projection mapping In addition, the sound and aroma will create a space that is easy to lead to a meditative state.
In addition, Auf Goose, which uses a towel to look up the steam raised by Laureu, which sprinkles aroma water on a heated stone, and Vihita, which bundles the branches and leaves of the birch, which is a specialty of the Finnish sauna, will be used for whisking. We will deliver the ultimate "Toto" art sauna experience that will lead you to relax both physically and mentally.

Furthermore, as a countermeasure against infectious diseases such as COVID-19, we will measure and disinfect the temperature at the entrance and limit the number of people who can maintain social distance each time.


◆ Sauna community "NAKED SAUNA CLUB" started
We have started the information community of "NAKED SAUNA & SPA". At "NAKED SAUNA & SPA", we will exchange information on various saunas, including information on holding a wonderful sauna life. NAKED We are planning to hold an event to be created at SAUNA CLUB.

"NAKED SAUNA CLUB" https://www.facebook.com/groups/nakedsaunaclub/


NAKED SAUNA & SPA
The sauna is made up of elements of fire, water, wind and nature.
To become one with nature through the sauna and become physically and mentally healthy.
I want to creatively update the experience of this sauna and make the lives of various people rich and healthy. Creativity in the sauna.
Based on the concept of Life & Nature -Creativity in the sauna-, we will explore new experiences, lifestyles, art and entertainment through the sauna.
https://lp.naked.works/sauna-spa/


Event Information
Event name: NAKED SAUNA -ART OF MEDITATION-
Location: ZeroBase Ariake Pop-Up Mall & Park (1-3-25 Ariake, Koto-ku, Tokyo)
Date: December 12th (Sat) -December 27th (Sun), 2020 (16 days)
Holding time: Replacement system each time (capacity 20 people each time, 30 minutes before and after changing clothes)
<Weekday 5-part system>
①14:30〜16:00、②15:00〜16:30、③17:30〜19:00、④18:30〜20:00、⑤19:00〜20:30
<Saturday and Sunday 9-part system>
①10:30〜12:00、②11:00〜12:30、③12:00〜13:30、④13:30〜15:00、⑤14:30〜16:00、⑥15:00〜16:30、⑦17:30〜19:00、⑧18:30〜20:00、⑨19:00〜20:30
Fee: Daytime (Weekdays ① ~ ②, Saturdays, Sundays, and holidays ① ~ ⑥) Weekdays 1 person 3,500 yen Saturdays, Sundays, and holidays 1 person 4,000 yen
Night section (Weekdays ③ ~ ⑤, Saturdays, Sundays, and holidays ⑦ ~ ⑨) Weekdays 1 person 4,500 yen Saturdays, Sundays, and holidays 1 person 5,000 yen
Ticket sales: https://bit.ly/377sTTr * Sales start from December 8th
Organizer: NAKED Co., Ltd.
Special cooperation: Metos Co., Ltd., Kesion Co., Ltd.
Cooperation: RE FACTORY Co., Ltd., Style Tech Co., Ltd., Seikou Giken Co., Ltd., PKB Solution Co., Ltd., Digiheads Co., Ltd., Sakura Tech Co., Ltd., Writing Roots Factory Co., Ltd.
Sponsor: CHILL OUT
Planning / Direction: NAKED, INC.

[Caution and measures against infectious diseases such as new coronavirus]
* Please be sure to wear a mask when visiting.
* Temperature will be measured before admission. Participation will be refused if the body temperature is 37.5 ° C or higher. Please note.
* Alcohol disinfectant is installed at the venue. Please disinfect your hands before entering the venue.
* Please refrain from participating if you are not feeling well due to fever or fatigue.
* We will limit the number of participants and carry out the program in a system that pays close attention to changes in physical condition.
* We will disinfect the tools before and after each session.
* For staff health management, staff will also wear masks.
* Comply with the corona support guidelines of the Sauna Spa Association
https://www.sauna.or.jp/pdf_files/2020NewCoronavirusCountermeasuresGuidelines.pdf
* Tickets will be electronic tickets and will be settled without cash. Same-day tickets will also be settled without cash.
* If it is judged that the service cannot be used safely due to weather conditions, etc., the business may be suspended. (In that case, no cancellation fee will be charged.)
* Please note that we are not responsible for theft or accidents.